MARES
Most of our Mares are exposed to Sundance, our stallion, for breeding each year.
Chiefs Brazen Bullet
Foaled 2003, Bay Tobiano
Brazzy at the Calhoun Colt Show
August 26, 2012
Brazzy at the Calhoun Colt Show
August 2012
Brazzy and I ready for Patrol Duty Urich Rodeo
July 2008
Urich rodeo
Patrol duty July 2008
Brazzy and 1st foal, Chance
July 2008
Brazzy's second foal, a colt.
Tahlequah 2009
Brazzy's third foal, a colt.
Tramper
Brazzy's fourth foal. Her first filly, Joy.
Joy at 3 months old.
Brazzy's fifth foal, another filly.
April 1, 2012
Joshua and Brazzy, throwing away trash.
October 2012
Brazzy and Stacy
October 2012
Calhoun Colt Show Parade 2014
Walking down the streets of Calhoun
Brazzy is broke to ride and will let anyone ride her. She is always very willing to try for the rider, and give you her best. She is getting better with every ride. She is enrolled in the Ride America program with American Paint Horse Association. She has done Rodeo Security and been rode in one parade. She has been on several different trail rides with various riders; and is the horse that babysits my husband when he decides he will ride with me.
August 2012, Brazzy was shown in the 4 years and older class at the 2012 Calhoun Colt Show, a fun show, and placed 3rd in a class of 4. Her 2011 foal, JOY, was also shown and did well, too. See her results, below.
August 2013, Brazzy was again shown in the Calhoun Colt Show. She was shown in the 4 and over class, the Mare and 2013 Foal class-1st Place, the Grand Champion Halter Class with Sky, and in the Walk/Trot under 13 Class ridden by my 13 year old nephew. Brazzy didn't perform as well as she should have because she was too worried about her 2 month old foal, SKY, when Sky wasn't in the arena with her. (Not that I blame her!)
Summer of 2014, Brazzy and I spent a lot of quality time together, hitting the trails and the roads. We were in the Clinton, Ole Glory Days parade, rode in Berry Bend, and practices maneuvers in the Arena. In late August, Brazzy was entered in the local horse show. Brazzy was entered in the 4 yr old and older Paint Horse Halter class where she was placed 1st in a class of 5-6 horses. Later we saddled up and had some fun in the Walk-Trot class and the Western Pleasure class. We didn't place but we enjoyed being in the ring. Brazzy has a "get down the road" walk, trot and lope which doesn't really "go" in the show arena however she is a GOOD ride!
O Sonnys Mity Matilda
Foaled 2006, Black Tobiano
APHA #858,609
For Sale: $2000
Matilda (Mattie)
August 29, 2008
Mattie's first foal, Jean, a filly.
June 2010, 3 months old
Mattie's second foal, another filly
Marie, 2011
Mattie is a Black Tobiano. She was born on this farm; I sold her, then bought her back. Her sire is Mity T Strom, aka "Cody" a palomino tobiano. You can view pictures of him on the APHA page. She is a half maternal sister to "Brazzy" and half paternal sister to "Pebbles". She has had the saddle and bridle on one time; and did well. She has had a lot of handling and groundwork done already and shouldn't take much to get her going under saddle well. She is throwing very nice foals when crossed with Sundance.
Jae Bar Stacy
Foaled 2006, Palomino Overo
Stacy, 2011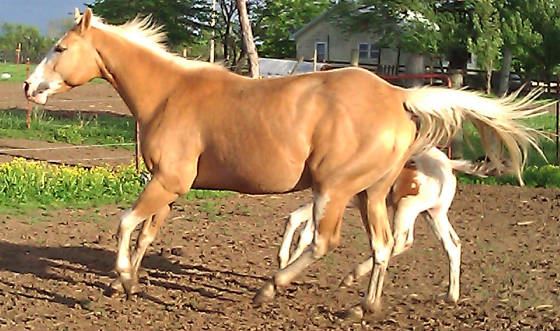 Jae Bar Stacy
Summer 2008
Stacy Hobble training
June 2009
Stacy at Calhoun Colt Show
August 2012
Stacy before the class, practicing.
Calhoun Colt Show, August 2012
Calhoun Colt Show 2014
My brother showing Stacy in the 4 and older Paint Horse Halter Class
Competing is speed events, Calhoun Colt Show
August 24, 2014
Calhoun Colt Show 2014
First ever attempt at Barrel Racing
When I purchased Stacy, she had 60 days professional training in Iowa during the summer of 2008, then she took the fall off. She is now one of my favorite horses to ride.
She is enrolled in the American Paint Horse Association's Ride America program and is considered a PERFORMANCE HORSE because of the number of hours that have been logged . She is cow bred, and very quick to turn around for you. Stacy's dam is currently being shown and earning money in the cutting world........... Stacy has a wonderful collected trot that is a dream to ride.
She spent some time being trained to be a Sheriff's Posse horse; she made her first "Public Appearance" on June 18, 2009 at the Clinton Summer School. Then, the 20th of June, she was in her first Parade. That evening she patroled the Rodeo Grounds for the first time. Earlier that summer she headed to Eagle Ranch for 2 different trail rides. Her second parade was the Ole Glory Days Parade in Clinton, MO, on the 4th of July. This is the biggest parade around and has a lot of scary objects along the parade route. Stacy when on down the street like we did it everyday.
She had her first foal April 2010, a perlino tobiano filly, we named Dawn. Dawn has all the moves you would want in a cow horse and has been sold.
Her second foal, Scout, is a Bay Tovero colt, with wild markings, 1 blue eye, and the second eye is partial blue. Scout is currently for sale. He has been shown in the local show in halter as a yearling. You can see more on SCOUT on the HORSE SALE BARN page.
AUGUST 2012
We took Stacy to the Calhoun Colt Show, a fun show, and she placed 2nd in the 4 years old and older class while being shown by my 12 nephew; and 1st in the LEAD LINE class with my 5 year old niece and I. Her 2011 foal, Scout, was also shown and did well, too.
Stacy really enjoys being around people and likes trail riding. She will either follow the pack, lead the way, or stay in the middle of the group. During the Fall and Winter when riding in the woods we often ride with a string of bells on to alert hunters and deer that there are riders around.
August 2013
Stacy was shown is the Calhoun Colt Show in the 4 and older class by my 13 year old nephew; in the Lead Line under 7 Class with my 6 year old niece and I----3rd Place; Walk/Trot under 13 Class ridden by my 10 year old niece--4th or 5th Place; and the Walk/Trot over 13 Class ridden by myself. That was our first under saddle Show Class and I was very happy with the way Stacy performed all day. I couldn't have asked for a better partner.
August 2014
Stacy had most of the summer off due to some lameness issues we are working through so she didn't get much riding. We did show in the local fun horse show. She placed 2nd in the 4 yr old and older Paint Horse Halter Class. Later in the day, we saddled up and entered the Pole Bending and Barrel race classes. We had never actually practiced either of the patterns only parts of each one of them. My plan was to walk into the arena and trot the barrel pattern. Stacy had other thoughts, and came into the arena as a trot and we loped and trotted the pattern.
We had a blast!
O Domino Mity Pebbles
Foaled 2006
Pebbles
Ready for showing at the Calhoun Colt Show, August 2012
O Domino Mity Pebbles, "Pebbles"
Hobble training, June 2009
Pebbles and I at the Colt Show
August 2012
Pebbles is a 2006 Perlino Solid Mare, out of Chiefs "Domino" Scamper and Mity T Strom.
She is broke to ride and was rode all of her 2 year old summer by a 10 year old girl. She has her dam's disposition, "What can I do for you" and "let's just get it done!" Pebbles is going to be used for parades, breeding, and for me to ride.
In early April 2011, Pebbles and I, attended a Clinton Anderson Certified Clinician Private Lesson in Lone Jack, Missouri, led by Jennie Wentworth. Pebbles learned a lot of new things and did really well for us as I bettered my techniques of the METHOD. Firsts for Pebbles that weekend were living in a stall with turnout, being in an indoor arena, and riding with other horses in the arena--all doing their own thing, to just name a few.
Pebbles was the horse that I rode the most in 2011, and we really came a long way in her training. She's more responsive to leg pressure and learning to neck reining, along with patience under saddle. I'm really happy with the way she is going. Though she isn't her dam, Domino, she's got her try and good attitude about working for you, and I've come to see where she has assets her dam didn't have. Every once in a while when I'm riding her I feel her momma's spirit in her.
August 2012
I showed Pebbles in the 2012 Calhoun Colt Show, a fun show, in the 4 year old and older class. We placed 4th out of 4, Pebbles just wasn't behaving herself!
MOONLIGHT KEM
2007 Grullo Tobiano Mare
APHA #919,818
When I picked Kem up in May 2012, she was a 5 year old mare and she was not even halter broke, nor would she let you touch her, though she would grab a treat out of your hand. I started using Clinton Anderson's round pen methods on her to gain her respect. After 3 sessions of round penning exercises she still wouldn't let you catch her or touch her; you could be inches away but not touch her. So, we stepped up the training and I put a lope on her to keep her from leaving me. By the end of the next day, she could be approached and caught, accepted hosing off, fly repellent, led, and would stand tied, along with letting you touch you all over. I'm giving her a few days break and then I am going to finish up the Fundamentals ground work exercises with her. Depending on how she responses, I will either finish her out to ride or just use her as a broodmare. Right now, it looks like she is going to be rideable.
August 2014--Kem and I did a crash course on how to show in a Halter Class, set up, and load into the trailer. She was hauled to our local fun horse show, the CALHOUN COLT SHOW, and shown in the Paint Horse, over 4 yr old class---3rd place; and, the MOST COLORFUL PAINT Horse class---2nd place. She also entered the ring for the Grand Champion Halter Class. I was really proud of the way she showed for me. It was completely new to her and she really gave it a good try. You just can't ask for more than that!
Moonlight KEM
2007 Grullo Tobiano Mare
Calhoun Colt Show 2014
Kem's first trip to "town"; showing in the Most Colorful Paint Horse Class
Kem is bred to our stallion, Sundance, for a spring 2015 foal.
O MY ODE TO JOY
2011 Homozygous Tobiano Buckskin Mare
O MY ODE TO JOY APHA #999,839
2011 Tobiano Buckskin Mare. Daughter of Brazzy and Sundance.
Joy and I in the Yearling Class
Calhoun Colt Show, August 2012
Calhoun Colt Show 2014
3 Year old Paint Halter Class
She has a very gentle disposition like her dam, Brazzy. Joy is halter broke, though you can do about anything you want to her in the pasture without a lead or halter. She loves to be scratched but is not pushy at all.
She has one blue eye and is built like a tank.
She has been tested at ANIMAL GENETICS, INC, in Florida; and, tested TT for the Tobiano gene, which means that she is homozygous. This means she will always produce a Tobiano foal no matter what she is bred to.
Joy received her name because she was the first foal born after our Barn fire in February 2011. She is a niece of Domino, and is a buckskin like both the mares lost in the fire.
AUGUST 2012
I took Joy to the 2012 Calhoun Colt Show, a fun show. In the Yearling Halter Class, Joy placed 1st. In the Most Colorful Paint Class, Joy placed 2nd. And, in the Grand Champion Halter Class, Joy placed 4th out of a class of 8. She placed right AFTER the three full grown horses that were shown on a regular basis. I didn't think that was too bad for her first show, and so little training.
August 2013
Joy and I again attended the Calhoun Colt Show. Joy was shown in the 2 year old class and placed 2nd behind her 3/4 brother, Jack. Joy was also shown in the Most Colorful Paint horse and placed out of the ribbons.
August 2014, Joy and I showed in the local fun horse show, the 105TH CALHOUN COLT SHOW. She was entered in the 3 yr old Paint Horse Halter Class where she placed first over her 2 half brothers, Scout-2nd, and Jack-3rd place. Later, she was shown in the MOST COLORFUL PAINT class by a family friend. She came in 3rd behind Scout-1st place, and Kem-2nd place; in a class of about 7-10 horses.
The more I work with Joy, the bigger Joy she is to work with!
Currently she is not for sale.
DIAMAN H TWO ID RISK
APHA #875,397
"Diamond"
Diamond came to me in April 2014. She was extremely under weight, only weighing a little over 800 pounds and standing over 15 hands. We have worked very hard this spring and summer getting her back to her ideal weight. At the first of August, she finally weighed in just at 1000#. I think she still needs another 200 pounds to be at her best weight and health.
She was exposed to our Stallion in May for a 2015 foal and she appears to be carrying a foal.
I have been told that she was broke to ride and ridden as a 2 and 3 year old. I have been working on her ground manners since she arrived. She now doesn't throw her head up and away from you when you try to put the halter or bridle on or take them off. She, now, lowers her head on demand and will let you handle her feet again.
I saddled her up and worked her under saddle in June of 2014 and she decided to buck like crazy. I was VERY happy I hadn't just climbed on. SO, it looks like she will need to be restarted before I climb on her or have someone else climb on. After that, we went clear back to the round pen for some intense work. I plan on continuing to train her so that she can be shown in halter at the local shows and taken out on a ride.